Working from Sea to Sky – The Summit Lodge
Project Duration: January 2014 – April 2014
The Sea to Sky Gondola, stretching 885 metres above sea level, transports visitors from Highway 99 to dream-like views. The gondola has attracted more than half a million people from around the globe since it opened in May 2014 and has even landed Squamish on the New York Times' list of "52 Places to Go in 2015."
The Summit Lodge sits at the top of the gondola route. The building is surrounded by cantilevered decks that boast some of the best views in the province. The 5,000-square-foot viewing deck allows visitors to take in picturesque scenes of Howe Sound, the Coastal Mountain Range and the Co-Pilot and Sky Pilot mountain peaks.
Spectrum manufactured and installed all of the glass railings that surround the viewing decks in partnership with Brad Steinacher of Accent Home Décor. Brad did all of the installation. But, Spectrum engineered and manufactured the railings, so they had to be installed to our specifications.
Working 885 metres above sea level and designing railings to keep people safe at such extreme heights was no easy task. It took creativity and a strong partnership with Accent Home Décor to get the job done.
Overcoming Obstacles 
Challenge: The client wanted a custom-designed, glass railing. Originally, we planned for it to be a large, rectangular shape that would be installed flat. However, there were liability issues with this design. If a visitor set something on the flat railing – a camera, purse, etc. – it could fall down the mountainside. 
Solution: Spectrum came up with the idea of tilting the railing into the deck by 15 degrees to prevent people from setting items on it.
Challenge: The gondola was only working periodically throughout the winter months, due to wind and bad weather, making it challenging to transport building materials to the Summit Lodge.
Solution: We took the materials up to the lodge on the back roads.
Challenge: Our sub contractors had to work at extreme heights. 
Solution: All of our contractors went through special rappelling training, so that they could safely get out of the gondola and down onto the mountain if the gondola ever broke down.
Before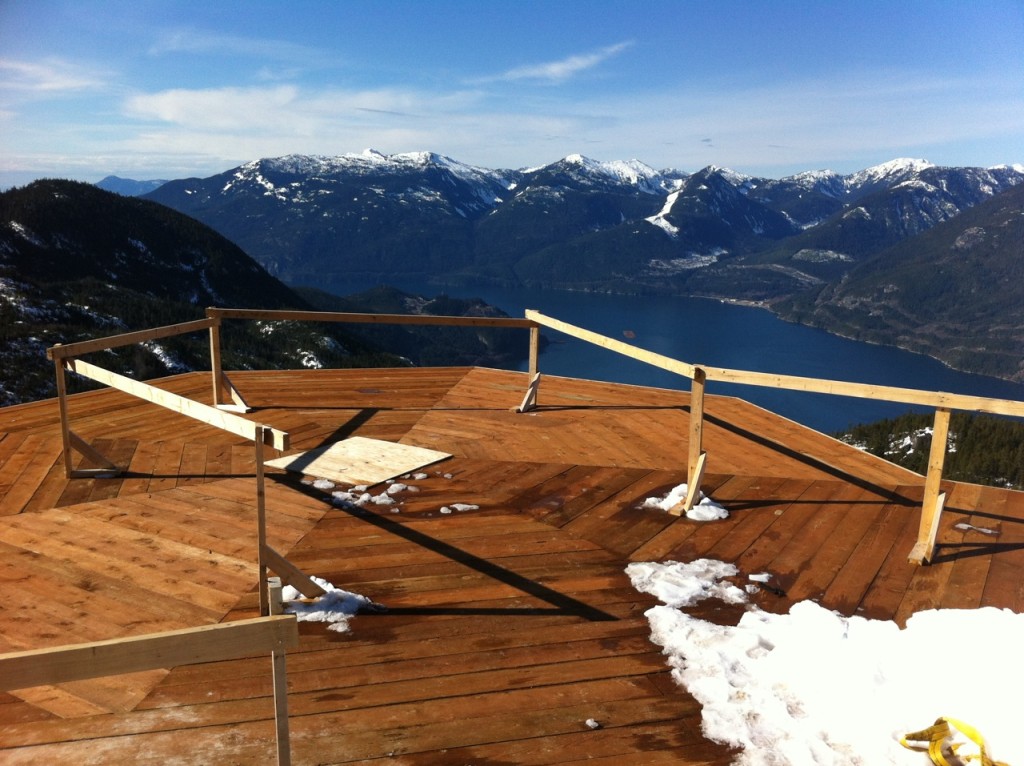 After